BETTER PERFORMANCE THROUGH SMARTER CLEANING
Hydropower plants face the constant risk of debris gathering at the inlets and affecting turbine performance. Kuenz solves this challenge with a range of innovative Trash Rack Cleaning Machines. Operating in either full- or semi-automatic mode, our systems remove debris of all shapes and sizes, garbage and sediment from the inlet, delivering greater efficiency and smoother plant operation.
HYDRAULIC TRASH RACK CLEANING
Thanks to their flexibility and robust design, our hydraulic systems are perfectly suited to remove bulky debris from vertical and inclined trash racks. They can lift up to six tonnes and clean to a depth of max. 33 meters.
Manual or fully automatic operation. Automated surface debris removal. Constant pressure on trash racks ensures best cleaning results. Customized solutions available.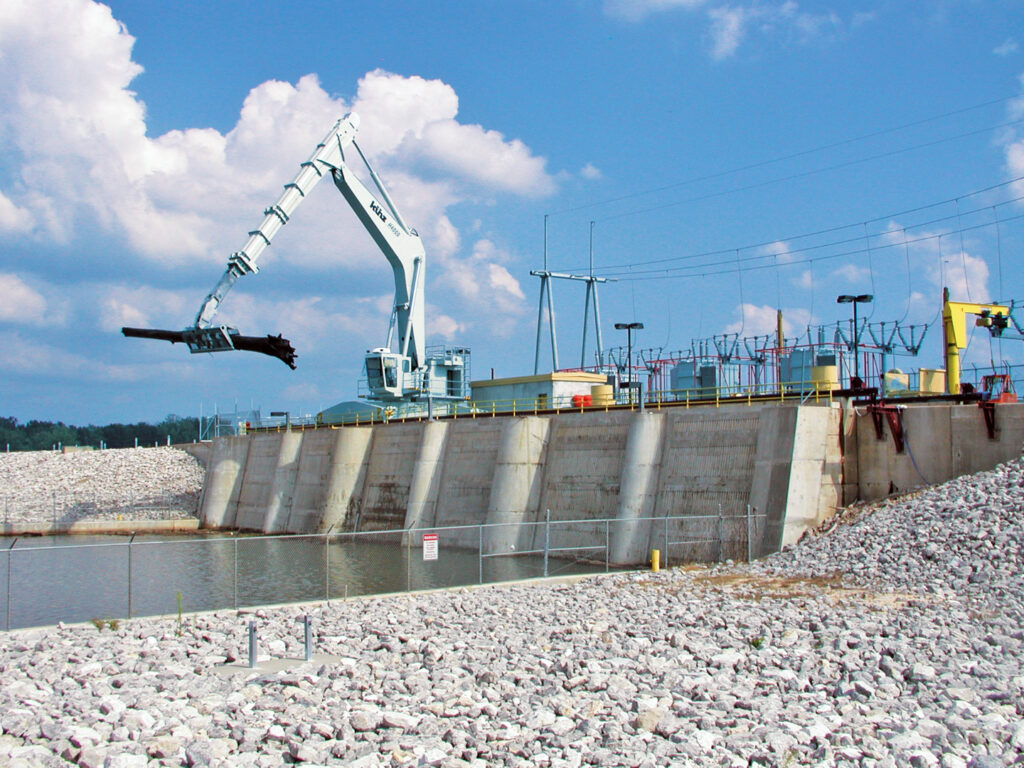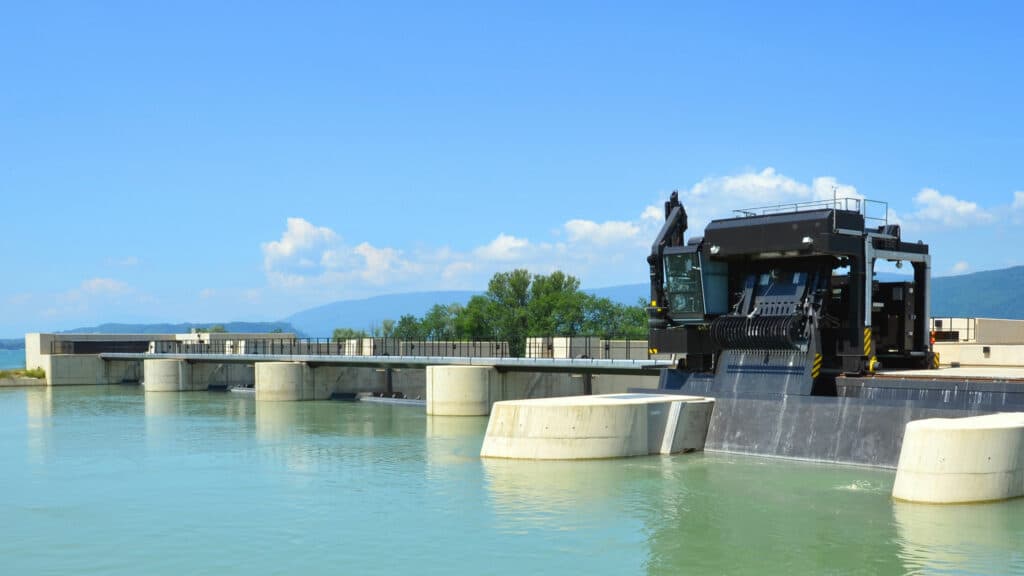 ROPE TYPE TRASH RACK CLEANING
For dams built in narrow spaces, our rope systems deliver unrivaled precision and reliability. They can lift up to 8.5 tonnes and clean to a depth max. 100 meters. The rope-based technology requires little maintenance, meaning the machine is available when it's needed most. Thanks to an integrated loading crane, our rope systems can efficiently clear garbage carpets from the surface of the water.
HORIZONTAL SYSTEMS
Hydropower plants face increasing pressure to lower their environmental impact. Horizontal trash rack and cleaning systems by Kuenz are designed to facilitate compliance with fish protection requirements. They can lift up to 3 tonnes and clean to a depth of max. 8 meters. The integrated loading crane quickly removes large branches and logs. And thanks to a flushing device at the end of the trash rack, our horizontal systems can dispose of debris automatically.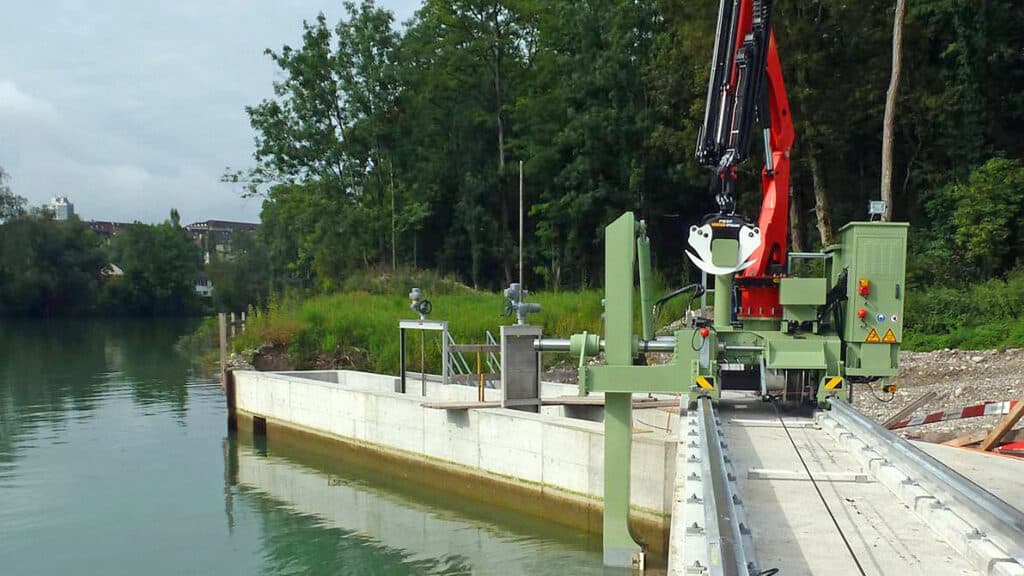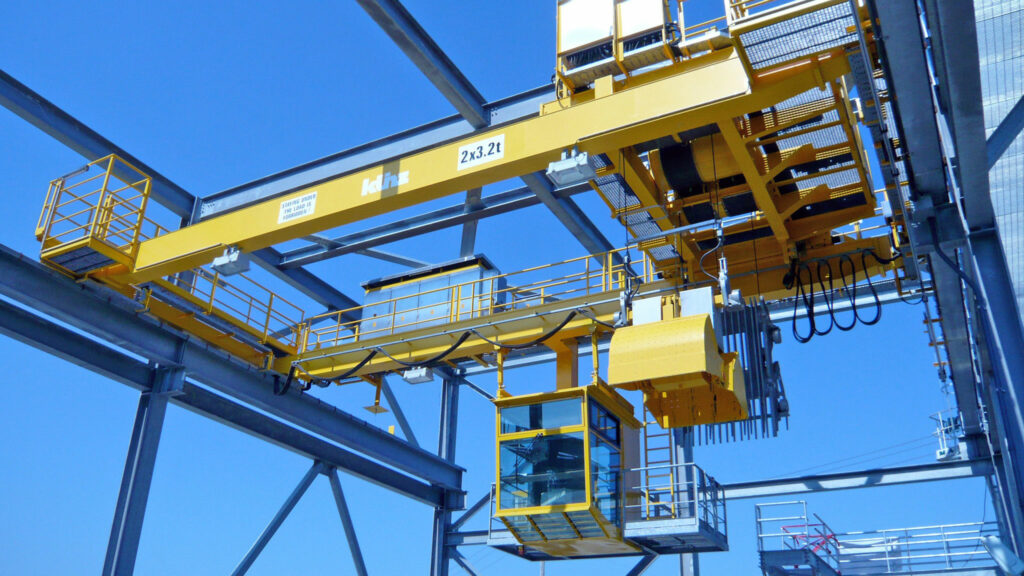 CUSTOM SOLUTIONS
Challenging site conditions or special applications require custom solutions. Every power plant has different requirements for the handling of debris. Our solutions offer maximum flexibility in system design – from direct discharge to underground flushing channels. Kuenz TRCM-S systems are site-specific designed to ensure efficient debris removal at any intake.
DOWNLOAD BROCHURES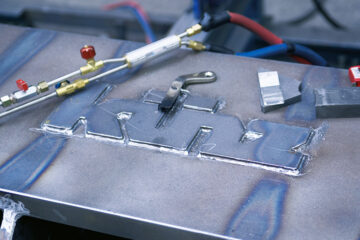 COMPANY PROFILE
Kuenz is a recognized innovation leader in crane and hydromechanical equipment manufacturing and offers well-designed, high-quality products to customers worldwide.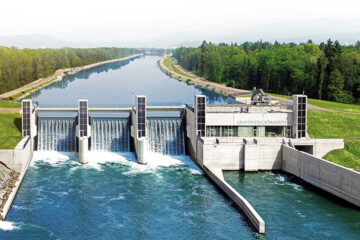 HYDROMECHANICAL EQUIPMENT
Decades of expertise make Kuenz the first choice for Hydro-Mechanical Equipment in Europe and North America.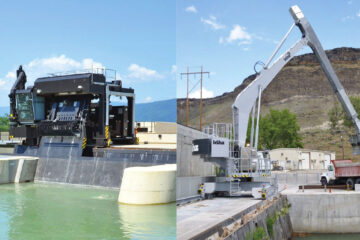 TRCM
With more than 50 years of experience Kuenz provides customized Trash Rack Cleaning solutions for efficient plant operation.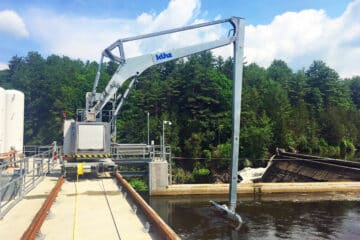 TRCM H-200
Explore the first configurable system for hydraulic Trash Rack Cleaning Machines.
SUCCESS STORIES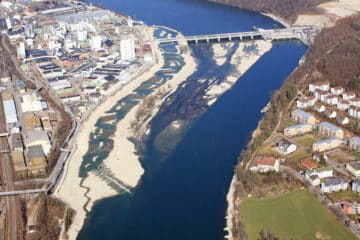 HPP RHEINFELDEN, D/CH
Energiedienst AG relies on the trusted partner Kuenz for the replacement of Europe's oldest large hydropower plant.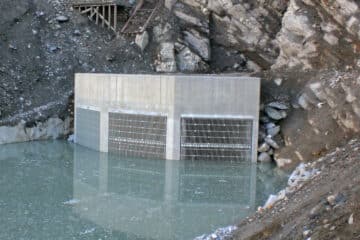 LIMBERG II, AUSTRIA
At Europe's largest hydropower construction site, Kuenz realized a technical challenge in a high alpine area.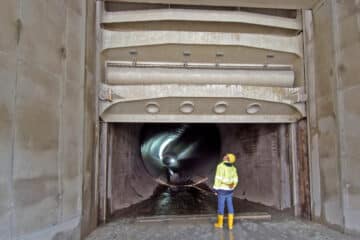 KOPSWERK II, AUSTRIA
Vorarlberger Illwerke relies on well-established local partner for their steel structure work.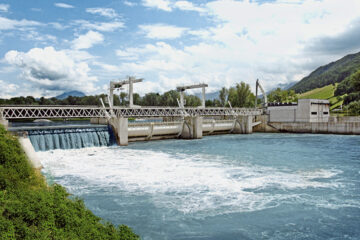 HPP GAMP, AUSTRIA
For the revitalization of the Gamp Hydropower Plant, Kuenz installed the complete hydraulic steel structure system, including trash rake cleaning …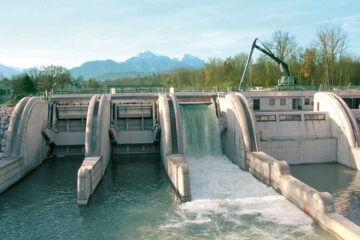 HPP ROTT, AUSTRIA
Kuenz designed and built the Hydromechanical Equipment for the Hydropowerplant Rott.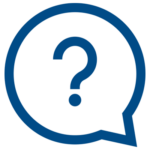 Do you have any questions or do you need a customized solution?
After decades in the industry, Kuenz understands that every project is unique. Technical requirements, local regulations and hundreds of other variables come into play. That's why we don't limit ourselves to off-the-shelf solutions and offer our clients a fully customized and tailor-made concept. We use the full range of our expertise to analyze the problem, design the solution and implement it in an efficient way.